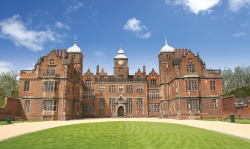 Aston Hall is described as the most haunted building in Birmingham, even though the Alexander Theatre is said to have more ghosts. The reason for this is that the ghosts at Aston Hall are generally more active.
There are three of the beasties. A white/grey lady who appears on the upper floors as a misty (sometimes shimmering) figure is said to be Mary Holte, the daughter of Thomas Holte who built the hall. It is said that, after a failed elopement, he locked Mary away in the uppermost room for many years.
Then there is the Green Lady, who is thought to be Thomas Holtes' housekeeper. She appears more often and is seen as a solid form in a green period dress. She has often been mistaken by members of the public as being a member of staff in period costume, and by staff who believe her to be a member of the public. There is a particular shell-back chair that she favours and has been seen sitting on many times.
Last of all there is the ghost od d*** the Servant Boy who hanged himself after being accused of stealing. Staff have reported seeing his small form hanging from the rafters of the room where he slept.
Aston Hall is the only well-known haunted establishment that I have investigated. This was at a time when video cameras where in their infancy and one had to carry around a separate recorder to capture what was fimed. It was an interesting night, and we did capture a grey mist of sorts on video; but we saw nothing of d*** or the Green Lady.
An interesting place to visit. One day.